The quality of your product pictures can determine the success of your jewelry company. Did you know that 93% of consumers thought that product images played a significant role in their buying choices and that 67% of consumers preferred quality images above all else? How else will you persuade customers to purchase if your website doesn't display comprehensive jewelry images? 
If you already have your jewelry inventory prepared, we can help you compete and join the other retailers in today's visually-driven society, where a strong visual display of your goods is essential. The first point of contact and involvement is your jewelry pictures. Within the first few seconds of viewing the image, if it is unable to draw in your target audience, consider those consumers permanently gone. 
This article will talk about the various things one needs to know about the importance of jewelry photography in e-commerce.
The Benefits of High-Quality Jewelry Photography
At Dropyourimage, we ensure that the jewelry's image conveys the grandeur it has long been associated with. The individuals who view it will be treated to a visual delight rather than just a simple image. Here are four benefits you'll enjoy if you choose us for your high-quality jewelry photography. 
Attract Attention and Create Interest
New people will always be viewing your website for the first time, regardless of whether your business is new or established. The way you picture your products affects how new consumers perceive you. Additionally, it increases the worth of your business among current clients. You must be careful to present yourself in the best possible light. Potential consumers won't click on your image if they can't see it because it's blurry. At the same time, people are more apt to explore product details if they observe a well-taken, high-resolution image. Good photos have an impressive impact. The picture's background must be flawlessly coordinated with the product's hues to make the product visible.
Showcase Details and Quality
When making an online purchase or viewing a product poster, seasoned consumers or direct purchasers always pay close attention to the smallest details. Customers can get a better sense of the texture and feel of the materials used in jewelry by viewing close-up images. In actuality, the goal is to provide a perfect experience that closely compares to they handle it. This type of merchandise photography demonstrates your dedication to your consumers and your consideration for the tiny details. A few close-up shots showcasing the detailed intricacies of the jewelry could be the final component you need to strengthen customer loyalty to your business.
Convey Brand Style and Aesthetic
There are several benefits to conveying your brand's looks through photography. It's a wonderful way for the average internet shopper to understand jewelry scales. Customers can quickly visualize the precise size and appearance of your ornaments on them by viewing a person wearing it in your pictures. Your PPC costs decrease the more appealing your shot is, equating to reduced client acquisition costs. Additionally, enlarging your beautiful products with modeled images will significantly raise the content worth of your jewelry e-commerce website. Modeled images help your consumers recognize your company identity. Visitors are drawn to the pictures on your product website if they contain models, making them a fantastic choice for featured images.
Encourage Purchases and Reduce Returns
If you run an eCommerce jewelry business, having a lot of product refunds can be extremely detrimental to your productivity. If they persist too long, they might even endanger your company's goodwill. Since the process of returning goods can be unpleasant, particularly if the item (such as a wedding or engagement band) was required on a deadline, your clients also bear a reasonable portion of the burden. Luckily, the 360-degree feature of Dropyourimage's product turntable visualization can help lower the number of product refunds. It guarantees consumers have a clear view of your goods before adding them to their shopping cart. They will be sure your product meets their requirements by the time they make a buy.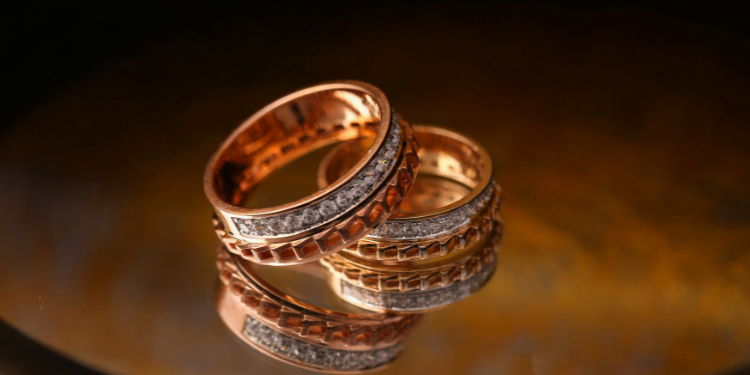 Best Practices for Jewelry Photography
Many e-commerce jewelry shop owners are frightened by photographing jewelry because of how tiny, shiny, and detailed the items can be. However, because the studio setting is much simpler to put together, jewelry photography is simpler than that for bigger objects. Check out these best practices for jewelry photography that'll help you get amazing pictures for your jewelry brand. 
Lighting: Natural vs. Artificial
It's never a good idea to use your camera's light when taking pictures of shiny jewelry. The jewelry will reflect the strong light, covering your product in white light patches and creating unfavorable reflections behind it. Use natural sunlight when photographing jewelry products unless you are a very experienced shooter with a very professional studio. Position your product near a window during the daytime to take advantage of natural illumination, which also allows you to use the sun as a secondary light source. You may want to disperse the light because strong sunshine produces harsh silhouettes and projections, similar to a built-in flash. This can be accomplished by placing a white sheet or piece of paper over the window.
Backgrounds: Neutral vs. Themed
You might be enticed to use a flashy, colorful backdrop for your photographs. But in the end, this only serves to divert attention from your merchandise and makes it more difficult for your viewers to clearly see the picture. The best option is to use a simple black or white backdrop. White is the best option, as some online markets won't take black backdrops. Using white is not only simpler for you along the road, but it also looks the best. We've talked about how easy it is to make a clean backdrop, but it's also simpler to take out any minor imperfections after editing.
Equipment: Cameras, Lenses, Tripods
When doing jewelry photography, the lens matters more than the camera itself. At Dropyourimage, we suggest selecting a lens with a 60mm focal length when buying your first close-up lens. Instead of life-size magnification, which is provided by more costly macro lenses, this focal length helps achieve half-life size amplification. Your arrangement will be more effective if you invest in a decent tripod for your merchandise photography. Using a tripod and, ideally, a remote shutter release to steady your camera will ensure your pictures are clear. Not only will it get rid of camera shake, but it will also keep your objects framed in exactly the same manner so you can concentrate more easily.
Angles: Close-ups, 360-degree Views
Be as detailed as you would with any other merchandise photography. Customers better understand what they are buying and are more likely to make a purchase when products are photographed from various perspectives. A client should be able to see your jewelry from the front, side, and rear. If there are any particular markings or embellishments on it, also include some close-up pictures. Dropyourimage's 360-degree rotating visualization function ensures customers can see your products clearly before adding them to their carts. Put yourself in your customer's position when photographing jewelry for sale. If you were about to purchase something you couldn't grasp in your touch, what information would you want to see?
Consistency: Product Lines, Styling, Editing
An essential component of any business picture is post-processing. You should ensure your white balance is accurate and consistent throughout the photo session. If you shoot in RAW, photo editing applications can easily correct this with a single click. You should also clear the backdrop and remove any accessories you used to place the jewelry. In the end, fix any blemishes, smudges, shadows, or flaws that might give the wrong impression about the merchandise. When the customer receives the product, it should appear just as it does in the image.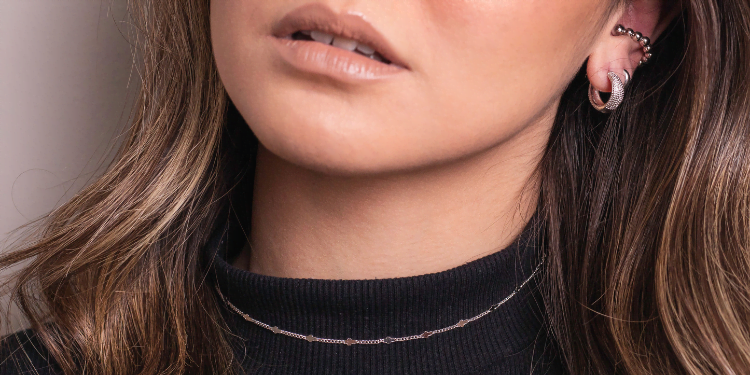 Tips for E-Commerce Businesses
Find a Professional Photographer
Nowadays, anyone can be a photographer with a contemporary camera, even a smartphone. But if you want to provide a positive first impression to visitors to your ecommerce or retail website, you shouldn't accept anything less than a high-quality image. If starting your own photography business isn't your first choice, you can find generalist shooters who will take any photos a customer requests. Their prices are significantly lower than those of specialist photographers who only serve customers within their particular market. At first, it might seem like a good plan to hire a photographer, particularly if your e-commerce company is just getting started. However, the other way around, it could also cost you more if the photographer is unable to deliver high-quality images appropriate for your company and you are forced to find a replacement or redo the session. To start your jewelry e-commerce shop off properly and prevent costly errors, it is a good idea to hire a professional photographer who will help you to retain old clients and bring in new ones. 
Creating Effective Product Pages: Photo Placement, Zoom Options, Alternate Views
Creating effective product pages means maintaining the perfect balance between photo placement, zoom options, and alternate views. These are a few factors to keep in mind when photographing jewelry, or you won't get the desired results. 
Photo Placement is about perfectly placing the elements in a frame. So, it's best to keep the backdrop simple or use as few accessories as possible to avoid distracting the customer and having them miss the intricate details of the jewelry. Additionally, if you want to draw clients' attention to the finer points of the necklace, you can use the various zooming choices. You can also share the various perspectives and aspects of the jewelry and give your customers the opportunity to view it from various angles.
Using Social Media and Marketing Channels to Promote Jewelry Photography
Your online business should place a high value on social media. Social media platforms like Facebook, Instagram, and Twitter can expand your customer base and company recognition, so long as you employ them properly. You can keep your consumers well-informed about the various new jewelry products you plan to debut by publishing regular content, daily blogs, and weekly live content. To gain an advantage when it comes to marketing, you can also imitate your rivals. The efficacy and performance of your marketing efforts will always be influenced by user experience because social media marketing and user experience are closely related.
Find a Good Photo Editing Outsourcing Partner
You might not have enough time for post-processing with a hectic work schedule. If that's the case, you can opt for outsourcing expert services to improve your images and give them a polished look, and you can automate or delegate all of your major photo editing duties to professional photo editing service providers such as Dropyourimage. The specialists will make numerous changes, such as adjusting hues, enhancing composition, adjusting contrast and sharpness, performing skin retouching, editing the background, adjusting a model's body shape, erasing the background from a picture, and more. You can also use our photo-altering services, where expert retouchers produce excellent results at a reasonable cost.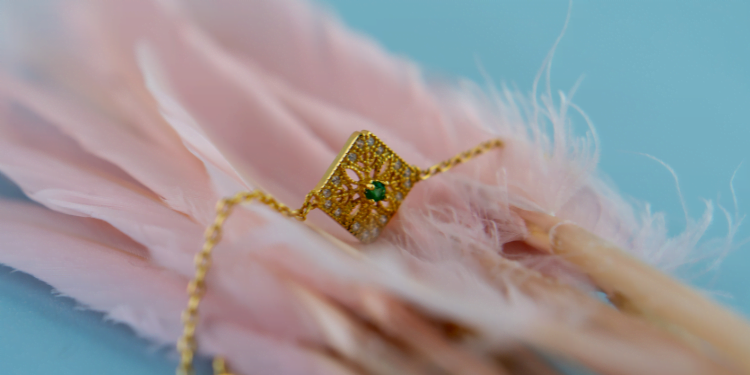 Conclusion
The Importance of Jewelry Photography in E-commerce
It's crucial to accurately represent the jewelry you intend to sell if you operate a jewelry e-commerce business or are attempting to market one. A well-photographed image or the use of photo editing services can increase your possibilities of finding new customers who are interested in purchasing your jewelry goods. As we all know, a picture is worth a thousand words. A picture that has been skillfully taken and expertly edited can work marvels for your jewelry e-commerce company. Additionally, if you're seeking to outsource picture editing services, choose Dropyourimage's services to experience the distinction for yourself. 
Invest in High-Quality Jewelry Photography for Better Sales and Customer Satisfaction
High-quality product images will improve consumer trust in your business. However, given how difficult it is to conduct jewelry photography alone, most online shop proprietors find it intimidating. The jewelry photography services offered by Dropyourimage are an option in that situation. We will assist you in getting the right pictures, whether you require white backgrounds for your jewelry photography or any other editing services for make your photographs stand out. Sooner or later, people will judge your jewelry photos to be of higher quality than others in the market.